Animation vs. Simulation
Predict outcomes and maximize performance when automating packaging conveyance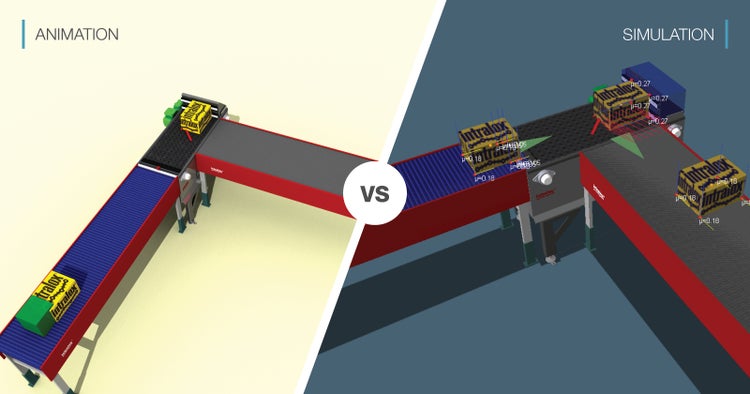 Automaton is critical for processing facilities across industries. However, with expensive, time-intensive hurdles and unknown factors involved, achieving it is no easy feat. Is it even possible to get predictable packaging conveyance performance?
The good news is you can have better conveyor performance predictability and a deeper understanding of your systems with tools like animations and simulations when optimizing your line layouts. It's important to understand the differences between the two when working with your partners to evaluate solutions. We spoke with Joe DePaso, Intralox Senior Staff Engineer, and Reid McCall, Intralox Demo3D Product Manager, to better understand the differences between animation and simulation.
Animations Defined
"Animation is an idealized representation of packages moving from point A to point B. In this sense, the packages would achieve their destination regardless of any obstruction," explains Joe DePaso. "Animation is a representation of movement." Animation can help plant managers and operators understand and visualize how their desired system will look. However, animations can't show the nuances that packages might encounter on the line. They're simply not equipped to account for unpredictable outcomes, forecasting, and risk management.
In 2005 we started working with Emulate3D to develop an Intralox ARB physics engine inside of Demo3D that would give us accurate package motion. Eventually we developed a proprietary Intralox catalog that contained Intralox ARB devices and the entire Intralox product line. During this development, and when applying simulation tools with our customers, we evolved our roles from salespeople to true technical consultants.

Joe DePaso
Intralox Senior Staff Engineer
How Simulations Differ
In a 3D physics-based simulation, every component that a package encounters in the process is assigned physical parameters. The motion of the package evolves in time as it interacts with these physical components. The simulation video is the graphic output of those interactions resulting in the evolved package motion.
Simulations take the 3D physics-based model of a systems environment and apply scientific tools—such as our proprietary physics algorithms, accumulation analysis tools, and OEE estimation tool—to it to answer specific questions. These questions can be as simple as "at what speeds do I need to run my merge to avoid a backup?" or as complicated as "if my case packer goes down for 15 minutes less per shift, what impact would that have on my overall throughput?"
The accuracy of the answers to these questions relies heavily on the quality of the data that is being used as the basis of the simulation, which helps project leads make informed decisions and provide predictable and accurate outcomes through simulation-based models. This allows for forecasting a system's total cost of ownership, pinpointing and targeting bottlenecks, and having an in-depth understanding of how products will behave on your lines.
Intralox uses simulation to optimize line layouts and help ensure total project value and a faster return on investment.
When are Simulations Needed?
Simulations are beneficial when there is any concern regarding the performance of your processes—such as sorting, merging, switching, and pallet layer forming. In these instances, simulations validate the effectiveness of your line layout. The best results are obtained when you work with layout experts early in your projects to take your process goals and develop a layout to accomplish them.
DePaso explains, "Simulation of the entire process or critical sub processes reduces risk dramatically by enabling observation of evolved package motion through the process." At Intralox, simulations are just one aspect of the toolkit we use to optimize and simplify line layouts for our customers. 
Other tools in the toolkit of the layout development manager are discrete event modeling, bottleneck analysis, throughput analysis, accumulation analysis, physics-based modeling, and an expert-level understanding of the conveyance systems.
Intralox Team Tip: When considering simulation modeling for your line layout optimization, communicate all known information about your conveyors, equipment, goals, and desired outcomes to your provider. Knowing all key information is critical for using simulations to mitigate risk.
Simulations: Only as Strong as the Partnership
DePaso likens simulations to a tool that is only as strong as the user. It is important to have a partner with proven knowledge and success with simulation modeling when considering automating your processing facilities. Additionally, your partner needs to understand all levels of information regarding your systems for the simulation to be applicable.
The quality and completeness of the data that is being used as the basis of the simulation, as well as intimate knowledge of the strengths and constraints of the software, will determine the accuracy of the simulation.

Reid McCall
Intralox Demo3D Product Manager
"A good simulation cannot be done in a vacuum," says Reid McCall. "The quality and completeness of the data that is being used as the basis of the simulation, as well as intimate knowledge of the strengths and constraints of the software, will determine the accuracy of the simulation. As such, open dialogue and a clear understanding of goals and objectives from both our side and the customer's side are core parts of a successful simulation experience."
Watch as a large scale simulation illustrates the value of line layout optimization.
Simulating and Achieving Goals
Simulation modeling provides many benefits for a variety of goals of both processing facilities and OEMs.
At a small scale, simulations can:
Optimize line control device positioning and timing
Optimize conveyance sequencing and conveyor speeds
Verify product handling properties including orientation changes, turning, laning, curves, and accumulation back pressure
At a large scale, simulations can:
Estimate packing line production volume, overall system efficiency, and uptime
Identify bottlenecks in a system
Optimize accumulation locations by determining the amount of accumulation at that location
Regardless of your project scale, simulation modeling is designed to help you minimize risk and save time and money.
Success Story: Helmers Maschinenbau and Intralox help one of the largest meat-processing plants in Germany achieve an annual total savings of €2.8 million ($3.36 million USD).
Intralox and a Decade of Simulation Expertise
For over 10 years, Intralox has been using simulation modeling as a proof-of-concepting and layout validation tool for conveyance. We've evolved the way we use simulations to help quantify the value of optimized layouts and better evaluate projects, with the goal of helping reduce risk before any equipment is built and used.
---