What's NEXT?
Business leaders gather in New Orleans for manufacturing insights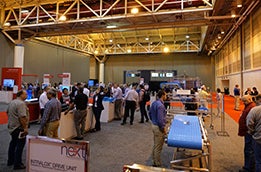 From start to finish, innovation was the underlying theme of Intralox's NEXT Conveyance Innovation Summit held on April 12 at the New Orleans Downtown Marriott. The inaugural event brought together business leaders for a day of educational sessions on various topics, including food safety, the future of manufacturing, and emerging trends in distribution. 
The day prior to the official opening of NEXT, over 130 food professionals gathered for a Hygienic Design Pre-Summit Workshop hosted by Commercial Food Sanitation, an Intralox company. The educational session was led by food safety experts and featured guest speakers from food processors, who shared their perspectives of hygienic design and food safety. 
Opening the general session of NEXT was author and Aspen Institute CEO Walter Isaacson, who enlightened the 350 attendees with stories and insights gained from Steve Jobs while writing his biography. From there, the day continued with sessions led by speakers and panelists from Intralox and companies including McDonald's USA, Tyson Foods, Starbucks, Kellogg, UPS, and The Haskell Company.   
Across the street at the New Orleans Ernest N. Morial Convention Center, Intralox's innovation shined. 
Over 20,000 sq ft of the latest conveyance technology packed the convention center floor. Not only were attendees able to experience conveyance solutions such as the DirectDrive System, Activated Roller Belt technology, and ThermoDrive tensionless belt system up close; they were able to learn more from engineers and product managers, and get a first-hand look at unreleased technology. 
"The innovation showcase was really like a trade show, giving us an opportunity to see the new technologies and take them back to our salesmen and customers to really see what's possible," said Paul Stein, an attendee. "People really don't know what's possible and this helps us get the word out to them."
Intralox president Edel Blanks echoed those sentiments. 
"Our role in innovation is to develop compelling solutions to help improve our customers' productivity," Blanks said. "NEXT gives us the chance to bring leaders from multiple industries together to share ideas and receive real feedback for the ideas we're showing." 
---