Intralox officials meet with U.S. Department of State Bureau of East Asian and Pacific Affairs
Trans-Pacific Partnership Discussed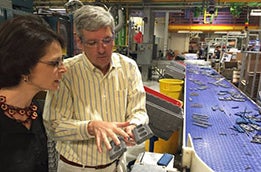 While in New Orleans for an outreach trip in support of the Trans-Pacific Parternship Agreement, officials from the U.S. Department of State Bureau of East Asian and Pacific Affairs met with Intralox leadership and toured the New Orleans manufacturing facility.  
Officials from the bureau came to learn more about Intralox's operations, which include facilites in China, India, Japan, and Australia.  Discussions centered around the the Trans-Pacific Partnership (TPP) -- a 21st century trade agreement involving 12 countries, including the United States -- and how it would increase exports and create more jobs for businesses and in communities across America.
During their time in New Orleans, officials from the Bureau of East Asian and Pacific affairs also met with leaders from Greater New Orleans, Inc., The Port of New Orleans and area universities. 
---