Low Profile PeopleVeyor Solution Leaves Workers 100% Satisfied
---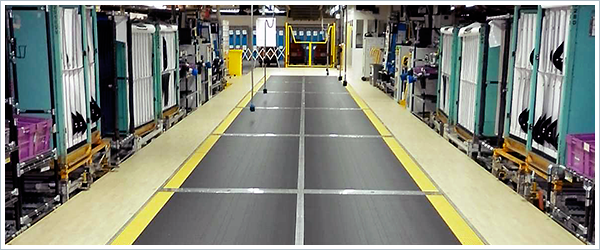 An automotive manufacturer wanted to improve ergonomic conditions for workers in the door assembly line of its United Kingdom plant. The door assembly process required a large amount of reaching, walking, and leaning over throughout its 34 work stations, each of which measures approximately 14 ft x 4 ft (4.2 m x 1.2 m). Though plant officials were interested in adding people-moving conveyors to the work stations, they had stringent requirements. Any such solution would need to be maintenance-free, as no additional support personnel would be assigned to the area. The line's mezzanine-level location ruled out digging pits to accommodate the conveyors. The automotive manufacturer also needed the belt material to be conductive, and for the standard takt time for the area (62 seconds) to stay the same.
With all these requirements in mind, the automotive manufacturer and its chosen integrator opted to install a series of low-profile Intralox® PeopleVeyor™ systems equipped with Intralox's patented Series 1000 Non Skid Raised Rib belts in electrically conductive acetal. The Intralox solution includes yellow safety edges and a Non Skid Raised Rib surface that collects debris instantly, and comes backed by top-notch customer service, technical resources, and belt performance guarantees.
Since being installed during the automotive manufacturer's 2016 Christmas holiday shutdown, the PeopleVeyor systems have brought significant ergonomic and operational improvements. Workers no longer need to reach, lean, or walk nearly as much as before, and fatigue levels have dropped considerably. Workers report a 100% satisfaction rate with the new solution, and takt time and maintenance levels have gone unchanged. Intralox and the automotive manufacturer are currently targeting more projects for later this year.