Bonduelle Europe Long Life
ThermoDrive® Technology Eliminates Ongoing Operational Issues for Bonduelle
---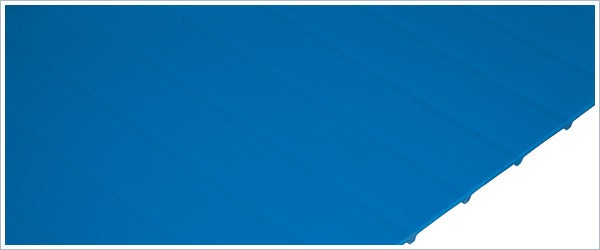 The mistracking problem was immediately solved after the retrofit. Periods of unscheduled downtime and labor time are no more. Cleaning and sanitizing the conveyor are now much easier, and only take half as long as before … We are convinced that the ThermoDrive tensionless belt system brings optimal operational performance while providing the highest possible level of food safety.

Mr. Schonbakler, Bonduelle Europe Long Life Project Manager 
Customer Objectives
A tensioned PVC belt system conveying frozen spinach cubes and mixed vegetables was creating multiple problems for the Bonduelle Europe Long Life plant in Lille, France. The belt mistracked so often that it required constant observation and frequent tension adjustments. Mistracking led to belt edge fray, which increases the risk of product contamination and adds cost. These demands added up to countless downtime and maintenance hours due to personnel having to monitor and trim a belt that lasted only a few months.
Intralox Execution
Another Bonduelle plant recommended the Lille location to consider Intralox® ThermoDrive belting, having reaped dramatic operational benefits and improved hygienic performance. ThermoDrive technology optimizes the operational performance of conveyor systems by using a unique, specific, patented tensionless belt system that drives reliably and predictably, while eliminating the costs and complexities associated with tracking and tensioning tensioned belt systems. The solid surface's homogeneous material has no fabric or reinforcing yarns, greatly reducing the risk of product contamination and meeting strict hygienic standards. ThermoDrive belts are always loose-fitting and can be immediately and easily lifted from conveyor frames for effective and easy sanitation. The Lille plant retrofit its conveyor to ThermoDrive Series 8050E Cold Use Blue Flat Top belting, ensuring all the benefits of ThermoDrive technology in its frozen foods application. Designed to offer unmatched hygienic operational performance at colder temperatures, the ThermoDrive Cold Use belt is continuously operable at temperatures between -30°F (-34°C) and 20°F (-6.7°C).
Results
The ThermoDrive tensionless belt system eliminated mistracking and tension adjustments. It provided Bonduelle with the highest level of security to operate a hygienic and food safe system, which significantly outperformed the previous solution and provided operational costs savings at a payback of less than 12 months. Annual cleaning costs have been reduced by 50%, and unscheduled downtime has dropped to zero. ThermoDrive belting's reliable operation has eliminated the maintenance and labor costs of managing the tensioned PVC belt. The plant is very happy with its solution and plans to retrofit other tensioned belt conveyors to ThermoDrive belting.
"The mistracking problem was immediately solved after the retrofit," says Mr. Schonbakler, Bonduelle Long Life Europe Project Manager. "Periods of unscheduled downtime and labor time are no more. Cleaning and sanitizing the conveyor are now much easier, and only take half as long as before. The belt's homogeneous surface eliminated risk of cross-contamination and allows for excellent product release, which makes the operators very happy. We are certain that the ThermoDrive technology brings a real gain, providing the highest possible level of food safety."