ThermoDrive Technology Reduces Cleaning Time by 30%
---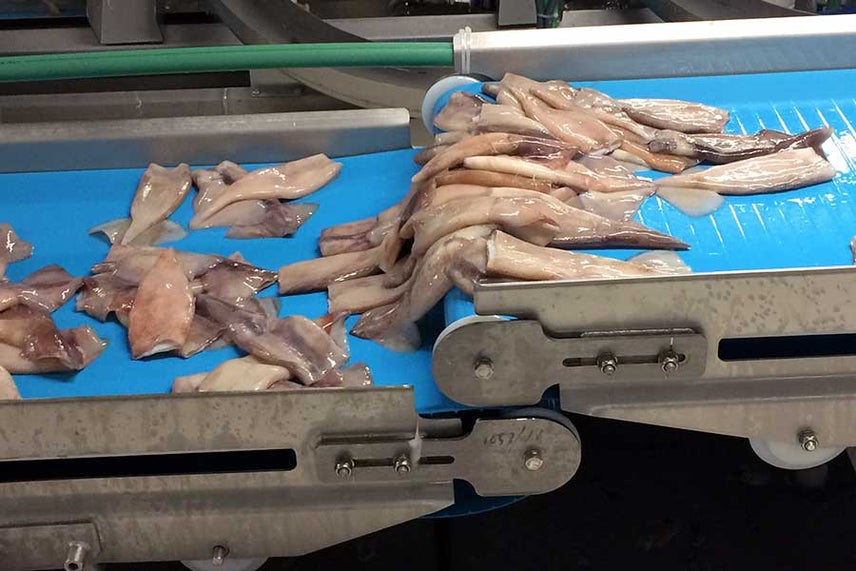 We are very satisfied with the installation of the ThermoDrive belts from Intralox. The results meet our expectations in terms of hygiene and maintenance, as well as support from the Intralox team.

Enrique Freire, Cabomar Congelados S.A. General Manager
Cabomar Congelados, S.A., produces fish and seafood products for customers across Europe. At its factory in Pontevedra, Spain, the company was installing a new line to clean and slice fresh squid. The conveyors were difficult to clean, especially on the inside; even extensive cleaning could not provide satisfactory results. Cabomar needed a different conveyor belt-and-design combination—one that would help them reduce cleaning time, and increase cleaning efficiency, without sacrificing performance.
Cabomar chose Intralox® ThermoDrive® technology for its new squid cleaning line. ThermoDrive technology combines flat, homogeneous thermoplastic material, and the positive drive feature of modular plastic belting with a unique, patented drive engagement solution to create a tensionless belt system. This helps processors reduce or eliminate operational costs and complexities while achieving better hygienic results. Cabomar had experience with Intralox products and appreciated the company's commitment to innovation, service, and support.
Based on Intralox's design recommendations, Cabomar installed a ThermoDrive straight-running conveyor in 2015. Since then, they have enjoyed only positive results. The hygienic advantages of the ThermoDrive belt, combined with the conveyor's open-frame concept, have greatly improved cleaning efficiency and effectiveness while enabling customized integration with the rest of the line. Cleaning time has been reduced by 30%, swab results are excellent, and product yield has improved. The conveyor has required zero additional maintenance. Cabomar is now working with Intralox to propose a company-wide retrofit of up to 20 additional conveyors.