Intralox Delivers an Easy-to-clean Turnkey Solution For Cémoi
---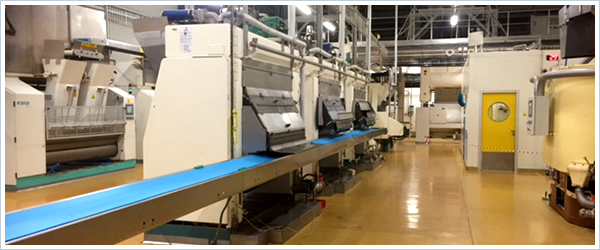 All of our problems have been solved...the ThermoDrive belt has allowed us to improve our product quality while reducing our operating costs.

Patrick Alberny
Cémoi-Perpignan Plant Engineer
Customer Objectives
With origins dating back more than 200 years, Cémoi is France's no. 1 producer of chocolate and one of the leading chocolatiers in Europe. In addition to its own branded products, Cémoi manufactures products for industrial and private-label customers. Its plant in Perpignan operates 24 hours a day across three shifts to process more than 28,000 lb (13,000 kg) of chocolate per hour.
Trough conveyors are a critical application in the Perpignan plant. Cémoi relies on both horizontal and incline trough conveyors to transport cocoa powder from the grinding area to the conche, where chocolate and sugar are mixed. The flat belts used in this area were causing many issues. They mistracked often, which meant maintenance personnel had to adjust them frequently. The mistracking lead to belt edge damage, shortening belt life (12–18 months on average). The belts themselves were also very difficult and time consuming to clean.
Intralox Execution
Cémoi wanted a solution that would increase belt life, eliminate mistracking, and reduce maintenance and cleaning time, with an emphasis on food safety. Plant officials also hoped the installation would be easy to coordinate and would require, at best, minimal involvement from on-site personnel.
With these objectives in mind, Cémoi chose Intralox® ThermoDrive Series 8026 belting. The ThermoDrive belt's solid thermoplastic structure ensures zero bacterial harborage, facilitates effective cleaning, and enables achievement of zero-level microorganism counts, all while reducing cleaning time (by up to 75%) and cleaning costs. Lightweight and easy to install, ThermoDrive belting eliminates tensioning, tracking, and cleanability issues that often arise with traditional flat belts. ThermoDrive belts can also last up to five times longer than traditional flat belts, depending on the application.
In addition to the promises of the technology, Cémoi was further won over by Intralox's service and support offerings. Intralox promised to take on the entire project and deliver a turnkey solution that included not only belting, but hygienic conveyor design, measurement/fabrication, installation, and startup support. The installations took place in July 2014 (incline trough conveyor) and February 2016 (horizontal trough conveyor).
Results
The ThermoDrive solution has delivered on all of its promises, and then some. Cémoi no longer experiences mistracking issues. Belt life has been extended from an average of 12-18 months to an expected minimum of at least five years. Exactly zero hours have been devoted toward preventive or corrective maintenance on the ThermoDrive belt. The system's easy-to-clean hygienic design has reduced cleaning time by over 12 hours per session—a total of 120+ hours saved per year.
Lowering cost of ownership was not one of Cémoi's explicit goals for the project. Nevertheless, the company has realized approximately $11,000 (€10,000) in reduced operational expenses over the past two years due to the cleaning time reductions and longer belt life. Cémoi plans to eventually retrofit all of its grinder-to-conche troughing conveyors with ThermoDrive belting.
Plant engineer Patrick Alberny, who spearheaded the project for Cémoi, had this to say: "We were having recurring issues that included belt tensioning, mistracking, and clogging of the return rollers. This motivated us to go ahead with a new technology: ThermoDrive from Intralox. All of our problems have been solved. Furthermore, the new belt is a lot simpler to clean, since it's so easy to move it on and off the conveyor. Installation of the ThermoDrive belt has allowed us to improve our product quality while reducing our operating costs."