Chemical Resistant ChemBlox belting for dip tanks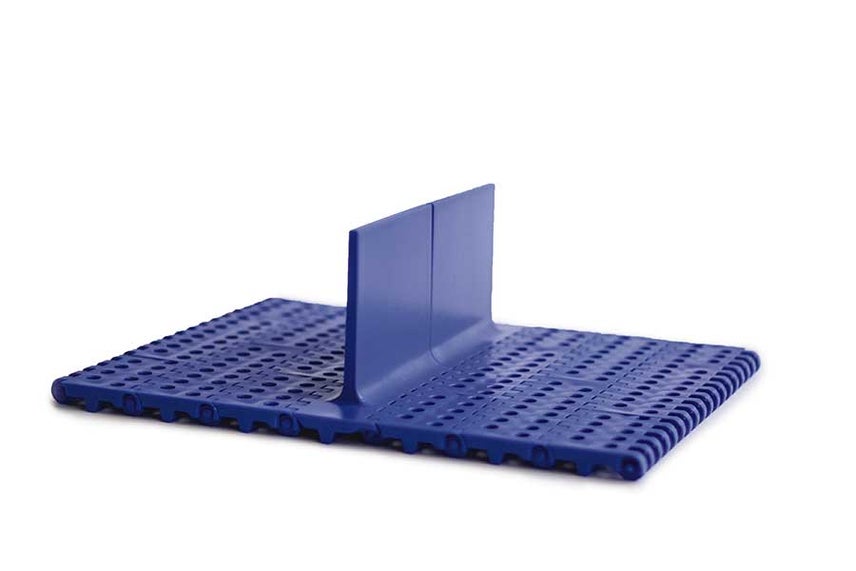 ChemBlox™ belting is designed specifically for dip tanks and is the most fault-tolerant solution for this critical, high chemical-exposure application. It provides exceptional resistance to strong acids such as peracetic acid (PAA) and other sanitation and intervention chemicals. This belting maintains its strength and toughness at least three times as long as acetal. Other benefits include:
Reduced foreign material contamination (FMC) risk in dip tanks.
Increased belt life even after continuous chemical exposure. 
Optimal drainage to reduce carryover of dip tank chemicals onto surrounding equipment.
Stronger flighted rows, created by molded indents on the belt.
ChemBlox is available in Series 800 Perforated Flat Top Round Hole with 11/32 in (8.7 mm) diameter holes, as well as Series 800 Flush Grid belting. It is backed by an extended three-year warranty for usage in dip tanks.
Case Studies
Passing the Test: Chicken Plant Converts 70+ Conveyors to ThermoDrive Belting

From Weekly Foreign Material Incidents to None Thanks to Intralox's FMC Conveyor Program

Intralox HDE PK Belting Eliminates Product Sticking for Greater Yield Retention and Safety