Hygienic food conveyance at a critical stage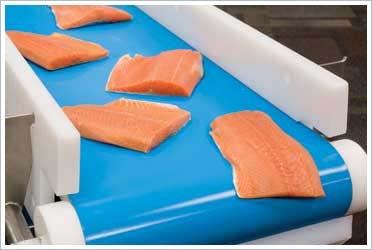 Raw and cooked products are in direct contact with conveyor belts during much of the production process. Equipping these applications with the most hygienic conveyor belts is a crucial step towards ensuring the food safety of your products.
Through superior hygienic design, cleanability, and minimal required maintenance, Intralox FoodSafe Solutions help meat, poultry, and seafood processors achieve hygienic food conveyance.

The FoodSafe portfolio includes conveyance solutions such as Intralox ThermoDrive® and SeamFree™ belting, as well as food safety education through Intralox's sanitation specialists.
"[With] ThermoDrive, our estimated sanitation time was reduced 62%, water consumption 55%, and swab tests were 53% better. These significant results gave us great opportunities to improve our product conveying system, reduce sanitation positions, and reduce our water use during sanitation."
—Major Poultry Processor 
Case Studies
Passing the Test: Chicken Plant Converts 70+ Conveyors to ThermoDrive Belting

From Weekly Foreign Material Incidents to None Thanks to Intralox's FMC Conveyor Program

Intralox HDE PK Belting Eliminates Product Sticking for Greater Yield Retention and Safety