DirectDrive System Honored for Innovation
Intralox awarded by ASB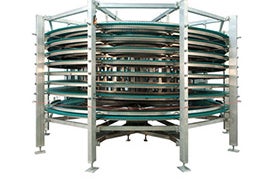 The American Society of Baking honored Intralox's patented DirectDrive System as its 2016 Innovation Award Winner.  This is the second award won by Intralox for DirectDrive.  It also received a 2015 International FoodTec Award.
The DirectDrive System is unique in that it engages the belt edge directly with the drum to eliminate overdrive and ensure that the spiral operates with zero slip.  It is engineered to minimize operational and maintenance downtime and to reduce belt tension, labor, and cleaning costs.
"We're honored that such an important association in our industry recognizes the benefits that our DirectDrive System technology brings to customers," said Sara Alcalde, Intralox Bakery Team Leader. "At Intralox, we are committed to innovation and strive to continuously develop technologies and products that bring savings to our customers."
According to the ASB, Innovation Awards submissions for 2016 were sought for the three categories of Operational Excellence, Eco Design and Sustainable Technologies and Health, Wellness and Nutrition. The awards program celebrates industry leaders and companies in the grain based food industry for their innovative development and implementation of leading edge products, equipment design and advancements in ingredient technology.
---