Freezing Area: Intralox bakery freezing solutions reduce tension to extend belt life and increase product throughput while preserving product quality.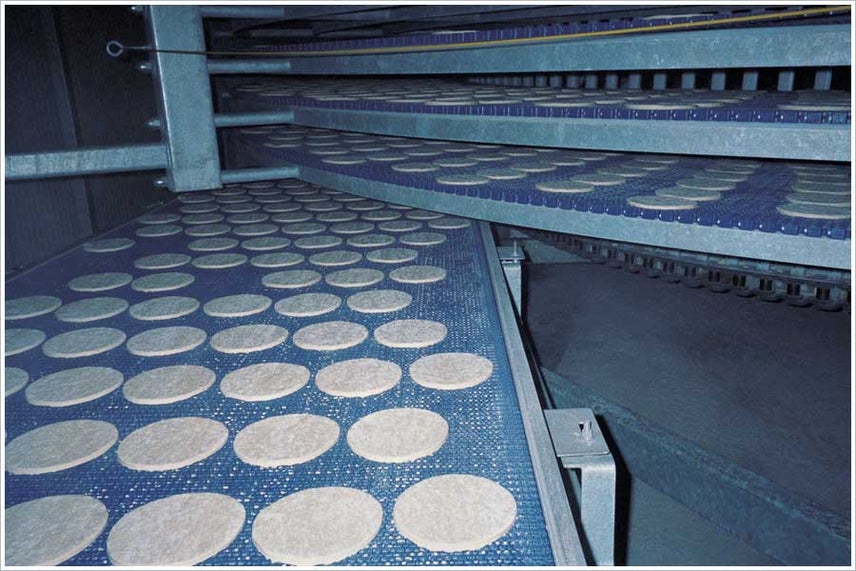 Intralox modular plastic systems are 50% lighter than metal alternatives, translating into less tension on the belt, less wear and tear on the system, and lower energy costs. The belt material features hydrophobic qualities that prevent moisture from adhering to the belt surface, achieving less product adhesion. The non-stick surface is also easier to clean than metal. The Intralox solution preserves belt open area, increases run time, and completely eliminates the risk of black speck contamination.
Results you can expect with Intralox freezing systems:  
Cutting product loss due to black specks 
Increasing throughput
Reducing lubrication to 0%
Improving product release
Increasing product quality
Intralox's freezing solution can be applied for new or existing spiral and racetrack systems. Intralox has a dedicated Spiral Team that can help you meet your most challenging spiral requirements.  
Please contact Intralox for help with the design of your new bakery applications or for improvement of your existing ones, including high-tension systems (e.g., racetrack systems).
Case Studies
Martin's® Reduces Downtime and Product Loss with FoodSafe Conveyor Workshops

Orlando Baking Installed The DirectDrive System. Now, Their Spiral Concerns are Toast.

Intralox DirectDrive™ System Delivers Dynamic Savings for Schulze & Burch