General Assembly - (Chassis, Seat/Interior/Trim and Door Assembly, Engine Line and Final Assembly) Intralox PeopleVeyor™ Solutions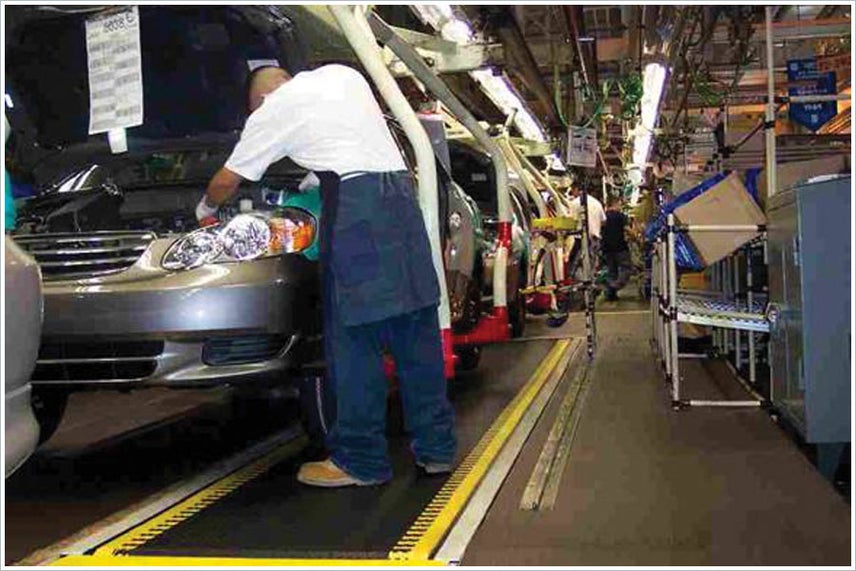 Automotive manufacturing plants across the globe have significantly improved employee ergonomics and minimized injury by utilizing modular plastic PeopleVeyor™ solutions to synchronize their employees and vehicles. In addition to the best modular plastic belting technology, Intralox offers a high level of technical expertise and service to help customers develop the best solutions for general assembly areas. 
PeopleVeyor solutions are available in a variety of styles including full width, long and narrow, and low profile conveyors.
Advantages
Reduces worker time by up to 7 seconds per 20 ft (6 m) pit
Uses Non Skid Raised Rib surfaces to ensure proper debris collection and safe worker transfers
Contributes to high worker morale and improved productivity
Uses positive drives to eliminate tracking issues and associated downtime
Features less surging and pulsating than other modular plastic belts
Provides easy installation and reduced maintenance
PeopleVeyor Solutions
Low profile conveyors at 5 in (127 mm) total height utilize Series 1000 Non Skid Raised Rib
Safety conveyors with patented Non Skid Raised Rib design available in S1000, S1200, S4500, and S10000
Very long and/or narrow conveyors at over 800 ft (250 m) long utilize S10000 (Flat Top and Non Skid Raised Rib)
Case Studies
Global Automotive Manufacturer Saves $130,000+ Annually with Intralox Solution

An Upgraded Tire and Wheel Area Keeps Daimler Trucks Rolling

Intralox Empowers Magowan Tyres to Double Distribution Center Capacity