Shrimp Processor Cuts Cleaning Time and Water Use in Half with ThermoDrive Technology
---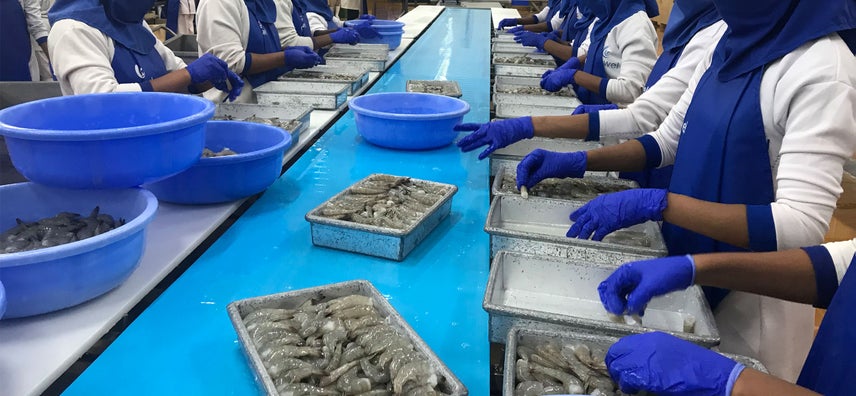 We're very happy with the performance of our new belt and the consistent support we received from Intralox. Thanks to ThermoDrive, we need significantly less water and time to complete cleaning and sanitation. Our plan now is to upgrade our remaining four setting conveyors to ThermoDrive belts over time.

Mr. CH. Sudheer, Growel Group Executive Director
Customer Objectives
The Growel Group is a leading provider of feed and healthcare products for the aquaculture sector based in Hyderabad, India. In 2015, the group expanded to shrimp processing, opening a world-class processing facility.
"Even though this plant had the same high levels of quality and automation as our existing facilities, we kept working to identify areas for upgrade, in line with our continuous improvement mindset," says Mr. CH. Sudheer, Growel Group Executive Director.
One such area was the setting conveyors, where shrimp are manually packed (set) into metal trays and then transferred to a block freezer. In particular, Growel was looking for a belt solution that could be cleaned and sanitized effectively in less time and with less water. The company did not consider traditional tensioned flat belts due to the challenges they present, including contamination risks and difficult maintenance and cleaning.
Intralox Execution
To optimize the setting conveyors, Growel opted to upgrade to Intralox® ThermoDrive® belting.
ThermoDrive belts feature a monolithic, flat surface without openings or hinges that can harbor bacteria. They can be cleaned in place or easily removed from the conveyor for deeper cleaning, thanks to their lightweight homogeneous material. As a result, cleaning and sanitation require less water and shorter downtimes.
To ensure a smooth and prompt upgrade, Intralox provided Growel with a detailed retrofit program that included minor conveyor modifications. Thanks to the continuous service and support of the Intralox engineering team, the upgrade was completed in just one day.
Results
The new ThermoDrive belting solution met and surpassed Growel's expectations. Since the upgrade, both cleaning time and water usage have fallen by 50%, the belt has been running flawlessly, and no repairs have been made to date.