Engineered to excel in the harshest environments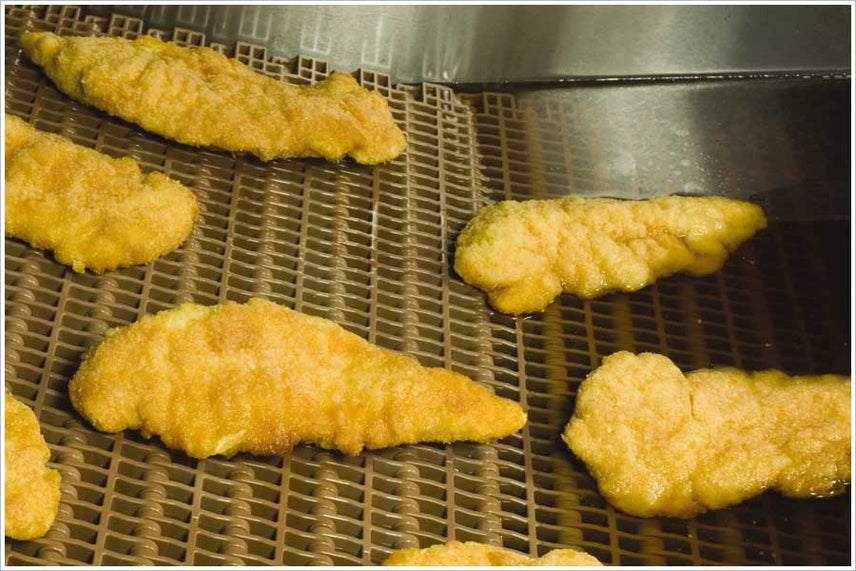 Hi-Temp belting from Intralox is lightweight, non-stick, and produces improved yields and a dramatic increase in belt life in high-temperature applications.

A new, FDA-approved, chemically resistant belt material and unique design qualities give the Hi-Temp belt many advantages over wire belts:
Significantly extended belt life
Flat surface with few catch points improves product yield and reduces crumb waste
Belt design and surface properties minimize oil carryover
Easier to repair; reduction in unscheduled downtime from belt 'crashes'

Success from the Field
A major poultry processor replaced its metal fryer belt with the Intralox Hi-Temp belt and experienced a belt service life eighteen times that of the metal belt.
The plant also noted a nearly 75% reduction in crumb waste, as well as significantly less oil carryover. These results, combined with the belt's improved product release properties, have enabled this processor to measure considerably improved product quality and yield.
Case Studies
Passing the Test: Chicken Plant Converts 70+ Conveyors to ThermoDrive Belting

From Weekly Foreign Material Incidents to None Thanks to Intralox's FMC Conveyor Program

Intralox HDE PK Belting Eliminates Product Sticking for Greater Yield Retention and Safety