IAFP Names Richard Brouillette Sanitarian Award Winner
Award recognizes exceptional service to the profession of sanitarian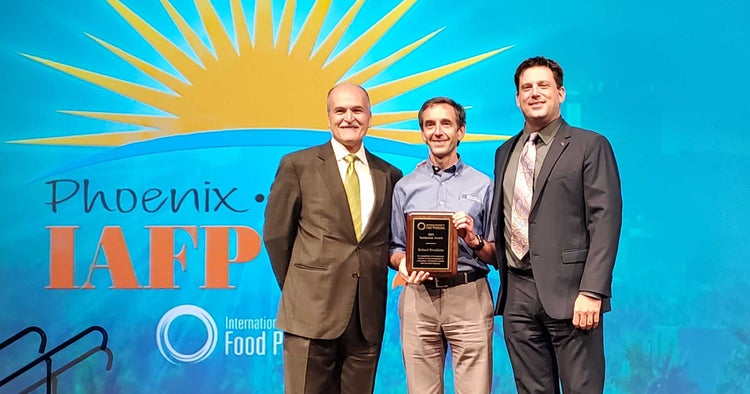 Richard Brouillette was named the recipient of the 2021 International Association for Food Protection (IAFP) Sanitarian Award. Brouillette, Food Safety Director of Commercial Food Sanitation, an Intralox company, received the award at the annual IAFP meeting in Phoenix, Arizona.
IAFP presents the Sanitarian Award annually to recognize dedication and exceptional service to the profession of sanitarian, serving the public and the food industry.
"Working in food safety and sanitation does not feel like actual 'work,'" Brouillette said. "It has been a great experience thus far meeting people, exchanging ideas, and helping companies and individuals improve their sanitation and food safety programs."
Brouillette has served as the Commercial Food Sanitation (CFS) Food Safety Director for the past seven years, where he consults on sanitation and hygienic design for the food industry. He joined CFS after spending 21 years with Mondelēz and Kraft Foods, where he held various roles, including associate director of microbiology and food safety for Europe, the Middle East, and Africa.
"Richard has proven himself to be an ardent advocate for public health through excellence in sanitation and hygienic design as an unrelentless teacher and trainer for both," said CFS President Joe Stout. "He is a highly valued partner to our many customers at CFS and has helped build the company."
After winning the award, Brouillette is eager to continue his service to the food industry.
"I am grateful and more excited than ever to be working with the experts at CFS to bring ideas to support our global food industry customers," said Brouillette. "We're listening to our customers and tailoring our Hygienic Design and Sanitation certifications plus offering new FoodSafe™ services to meet their biggest needs, and I believe consumers and the food industry will benefit in a big way. We are just getting started."
Interview with Richard Brouillette
---