Intralox and Commercial Food Sanitation Bring Training on the Road
Intralox and Commercial Food Sanitation Bring Training on the Road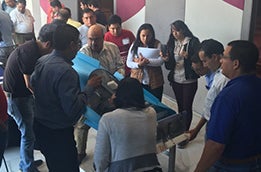 After visiting Intralox's headquarters, members of the Association of Processed and Frozen Vegetables of Guanajuato, Mexico, were determined to do one thing: Bring hygienic design and sanitation training to Mexico for food processors and OEMs. Recently, their persistence paid off in a big way. 
Over two days, 60 food processors and OEMs packed the Hotsson Hotel in Mexico to learn about hygienic equipment design and the fundamentals of sanitation. Industry experts from Intralox and Commercial Food Sanitation, an Intralox company, led the seminars.
During the hands-on training, attendees learned how to implement critical components in effective sanitation programs and how to apply the principles that drive hygienic design solutions at their facility. 
"On behalf of MarBran, I would like to thank the entire team of Intralox and CFS for the enormous effort to carry out the seminar on sanitary design and principles of sanitation," said Alejandro Gomez Chavez, MarBran Manager of Continuous Improvement. "We're motivated to do things in a better way; not only for the benefit of our organizations, but also our consumers who, in the end, are the most important."
The seminars were modeled after Commercial Food Sanitation's Sanitation Essentials Training and Hygienic Design Training. These trainings are offered at Intralox offices in New Orleans, Amsterdam, and Shanghai throughout the year. 
---