Intralox Celebrates 30 Years in the United Kingdom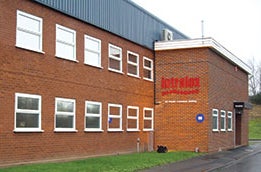 Intralox Celebrates 30 Years in the United Kingdom
November 2014 - Thirty years ago three employees assembled conveyor belts by hand in a small workshop in Kingswinford. Unbeknownst at the time, this workshop would lay the foundation of Intralox becoming a global leader of conveyance and innovation throughout the United Kingdom. Today, Intralox celebrates 30 years of business in the United Kingdom boasting an 11,000 square meter work area housing a growing workforce of over 100 employees. 
UK Assembly FacilityIntralox assembles each series of its modular plastic belt at its UK location, which serves the not only the entire UK but also large portions of Europe.  Offering a direct business model,  specialized industry teams, and an award winning customer service team, Intralox is able to service the region at market-leading service shipping levels of same day, next day, three day, and seven day service.
Since customers work directly with Intralox, customers receive the strongest written money-back guarantees in the industry.  To back these guarantees, the UK facility has achieved an on-time delivery rate of 99.8 percent.
"Our UK facility supports not only the continued growth in the UK, but supports our strong growth throughout Europe," said Jeroen Neuhof, Intralox Europe General Manager.  "Our team of dedicated employees, as well as customers who believe in our products, have made Intralox the leader in modular plastic conveyance and solutions throughout Europe."
Founded in 1971, Intralox is globally headquartered in the United States with locations around the world, including The Netherlands, the United Kingdom, China, Brazil, Australia, Japan and India.
---