Intralox Customer Service featured in Contact Center Pipeline
Intralox Customer Service featured in Contact Center Pipeline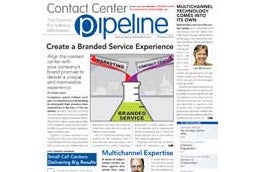 The February 2012 issue of Contact Center Pipeline, a monthly instructional contact center journal, profiles the Intralox Customer Service model. Each issue features a successful contact center and shares the best practices that impact employee and customer experiences.
The article highlights how Intralox Customer Service Representatives, with an intense commitment to innovation, integrity and continuous improvement, create economic value for their customers on a daily basis. "Providing consistently high standards of support requires a knowledgeable, self-managed staff with a passion for service. That is one of the company's strengths. And that makes them extraordinary in their customers' eyes," the article reads.
Since its first patent registration in 1970, Intralox's customer service operation has grown to more than 80 representatives handling $300 million worth of business across the world. Boasting a 99.5% order accuracy rate, 24/7 availability and support in 15 languages, the customer service team today supports more than 60,000 customers spanning the globe. In 2010, Intralox was recognized by the International Council of Customer Service Organizations (ICCSO) with their Award for Service Excellence in a Contact Center based on the knowledge, training and commitment of the company's customer service organization.
---