Intralox Europe Celebrates 25 Years
Company marks 25 years of service in Amsterdam European headquarters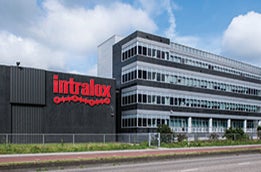 Shortly before Christmas of 1990, a major milestone was reached for Intralox.  Four workers assembled and exported the first conveyor belt from the company's original Amsterdam facility. Intralox, L.L.C. Europe was officially born.
Today, Intralox Europe celebrates 25 years of business in Europe with a growing workforce of over 250 employees in the region. To accommodate the steady growth, Intralox moved its headquarters to a larger, state-of-the-art facility in Amsterdam in 2012.  
Intralox assembles each series of its modular plastic belt at its Amsterdam location, which serves large portions of Europe as well as South Africa. ThermoDrive belting, Intralox's tensionless hygienic belt, and equipment for Intralox's Activated Roller Belt (ARB) are also shipped to customers in the EMEA region from Intralox's Amsterdam facility.  Offering a direct business model,  specialized industry teams, and an award-winning customer service team, Intralox is able to service the region at market-leading service shipping levels of same day, next day, three day, and seven day service.
Since customers work directly with Intralox, customers receive the strongest written money-back guarantees in the industry.  To back these guarantees, the Amsterdam facility has achieved an on-time delivery rate of 99.6 percent in 2015. 
"We are thankful for our customers in this region who have made this anniversary possible," said Jeroen Neuhof, Intralox Europe General Manager.  "Along with our team of dedicated employees over the last 25 years, Intralox has become the leader in modular plastic conveyance and solutions throughout Europe."
Founded in 1971, Intralox is globally headquartered in the United States with locations around the world, including The Netherlands, the United Kingdom, China, Brazil, Australia, Japan and India.   
---