Intralox Expands Capacity at Hammond Facility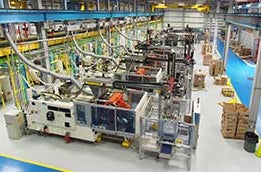 Intralox Expands Capacity at Hammond Facility
December, 2013 - Intralox announced today the installation of its 100th injection molding machine from partner KraussMaffei at its Hammond facility. Representatives from Intralox, KraussMaffei and local government officials from Tangipahoa Parish were on hand to witness the handoff from KraussMaffei to Intralox.
The addition of this machine is representative of the growth Intralox is experiencing around the world and provides further capacity to ensure the world-class service levels Intralox is known for. Early in 2013, Intralox opened an assembly center in India, increasing its worldwide presence to nine strategically-located facilities across the globe. This global expansion allows Intralox to increase services for global customers, decrease lead times, and strengthen guarantees.
"At Intralox, our priority is to create customer value," Intralox President & General Manager Edel Blanks said. "By guaranteeing high-quality, on-time delivery and extraordinary service around the globe, we've been able to grow our business and make an increasingly valuable contribution to our customers. Molding high quality products is the beginning of the process, and KraussMaffei machines help us achieve that goal
By the end of 2015, Intralox is scheduled to receive another 14 machines from KraussfMaffei, which will be housed at Intralox's Harahan, La. global headquarters and the Hammond facility.
Dr. Karlheinz Bourdon, Vice President Technologies KraussMaffei, was in attendance to officially hand over the machine. "We are pleased to give this greeting from Bavaria to our customers as an emblem for our longtime relationship crowned with success," Bourdon said.
---