Intralox Opens Center for Food Safety Excellence
Hygiene showcased in State-of-the-Art Facility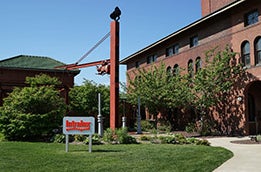 As food manufacturers place added emphasis on food safety, Intralox announced the opening of its Center of Excellence For Food Safety And Hygiene in Grand Rapids, Michigan.  The latest opening marks the 11th Intralox facility worldwide.
The opening of new office, led by Intralox Grand Rapids General Manager Jeff Batchelder, will house research and development, a test lab, and training facilities focused on product development to improve food safety quality.  
"We will develop training materials as well as labs and show rooms so our global customers can come and learn first-hand the value of ThermoDrive technology," Batchelder said. "Our goal is to work side by side with our food manufacturing partners to optimize our unique food safe technology."
Intralox invented modular plastic belting over 40 years ago. Today, Intralox offers hygienic belts and accessories, responsive technical support, innovative research and development, and food safety consultants working with customers across the globe. Intralox enhanced its food safety product line by acquiring ThermoDrive, a solid homogeneous belting with low-maintenance and positive-drive operation, from Mol Belting Systems in 2009.  The company also added Commercial Food Sanitation, a food safety consulting company, to its portfolio in June 2012.
"We have a truly world-class team of specialists providing extraordinary value to our customers in sanitation and food safety," said Edel Blanks, Intralox President and General Manager. "Food safety is a critical issue for customers, and we are committed to providing state of the art food safety solutions and services."
Founded in 1971, Intralox is globally headquartered in the United States with locations around the world, including Europe, China, the United Kingdom, Brazil, Australia, Japan and India.   
---