Intralox Press Release: Intralox Named Supplier of the Year by Tyson Foods for Second Time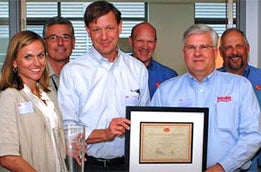 Intralox Named "Supplier of the Year" by Tyson Foods for Second Time
April, 2012 - For the second time in five years, Intralox, L.L.C., has been honored by Tyson Foods, Inc., as a "Supplier of the Year." Intralox becomes the second two-time winner in this category. This recognition is based on: continuous improvement contributions, performance surveys from Tyson locations, order fill rate and customer satisfaction, performance sales and technical support, and ease of doing business and diversity support efforts.
Tyson Supplier of the Year award
Creating significant economic value for its customers is a core tenet of Intralox's mission. Working in partnership with customers affords a very thorough understanding of their challenges, and allows Intralox to respond with the most effective solutions to meet their needs. This business partnership has created success for both Tyson and Intralox over the years.
On a global scale, Intralox and Tyson have grown together. An example of this growth can be seen in the support Intralox's facility in China has given to the expansion of Tyson's plant in Jiangsu Province. Additionally, by working with Tyson as an "early adopter" of new technologies – from ARB technology to Hi-Temp belting – the partnership has produced outcomes beneficial to both companies.
"We are very honored to receive this recognition from Tyson again," said Edel Blanks, President of Intralox. "When we last received the award, I made it a point to say to the Tyson team that we could not dwell on the success. I am proud that Intralox has continued to deliver meaningful services and benefits to Tyson. But, I am even more excited by what the future holds. Our current development pipeline has the potential to truly enhance what we have to offer, to Tyson in particular; I look forward to initiating that work."
Intralox received its first "Supplier of the Year" award from Tyson Foods in 2008. To learn more about Intralox solutions for the Meat, Poultry and Seafood industries, click here.
---