Intralox Press Release: Intralox named Modex Innovation Award winner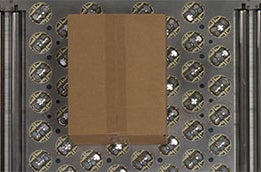 Intralox named Modex Innovation Award winner
OMNI-DIRECTIONAL Sorter wins Best New Innovation award
March 2014 - Intralox's latest innovation, the OMNI-DIRECTIONAL Sorter, was chosen as the Modex Innovation Award winner in the Best New Innovation category. The announcement was made during the MODEX keynote at the 2014 Modex conference in Atlanta, Ga.
This patented technology is capable of both receiving products from any direction and then sorting them in any direction at high rates within a compact footprint. Intralox developed the sorter for zone picking (or "pick and pass") applications where items must be sorted to manual picking areas and then merged back onto the same conveyor.  Another key application of the product is single-level infeed/outfeed to Automated Storage & Retrieval Systems (AS/RS) at rates above 3,600 cases or totes per hour.
 "As a company founded and focused on innovation, we are honored to be recognized as the recipient of this award," Intralox Research and Development Manager Matt Fourney said.
This technology sorts at any angle at very high rates within a compact footprint. It can also provide value in other applications because it can sort backwards; selectively rotate products; re-orient or align items; and position packages in rows and columns all on one machine. While these functions can currently be performed using multiple existing technologies, the Intralox sorter performs all functions on one machine.  
 The OMNI-DIRECTIONAL Sorter handles various types of packages, cases, and other conveyable objects.
For more than 10 years, patented Activated Roller Belt (ARB) technology has met the demands for efficient and reliable conveyance systems, while managing amplified throughput within a small footprint.  More than 4,000 ARB installations globally have decreased overall project costs and added functionality for our customers by filling the gaps in their line layouts with Intralox solutions. 
---