Intralox Relocates European Headquarters to Accommodate Growth
Office will remain in Amsterdam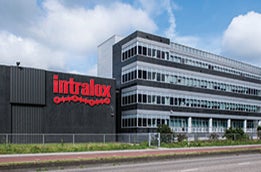 Intralox, L.L.C., the inventor of modular plastic belting, is pleased to announce the relocation of its European headquarters to a larger facility in Amsterdam, the Netherlands, to accommodate current and future growth of the company. 
The new facility allows for more efficient processes and enlarged production capacity by utilizing very narrow aisles in the warehouse and increasing the production area by nearly 3,000 square meters.  This additional space improves set-up for modular plastic belting assembly and fosters an environment for continued growth of ThermoDrive and Activated Roller Belt technologies.  
"This is not only an exciting move in the present, but it's also a necessary move to position Intralox for continued growth in the future," Intralox President Edel Blanks said.  "With the expanded facility, we will be able to better serve our customers around Europe, the Middle East and Africa."
The new facility will also facilitate a workflow that will further improve Intralox's award-winning customer service to the EMEA region. Employees will benefit from an open work space that encourages teamwork, communication and creativity by grouping employees by the industry they serve. State-of-the-art meeting and training facilities are designed for better customer and internal meetings. 
"Intralox Europe has been headquartered in Amsterdam since 1990. We have seen solid growth over the past decades, and this new facility marks a milestone for us in the EMEA region," Intralox Europe General Manager Jeroen Neuhof said. 
Founded in 1971, Intralox is globally headquartered in the United States with locations around the world, including Europe, China, the United Kingdom, Brazil, Australia and Japan.  
---