Introducing the Series 4500 Conveyor Belt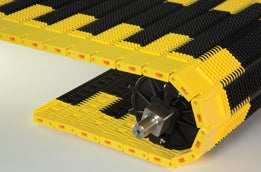 Intralox announced the release of the Series 4500 conveyor belt, a superior option for heavy-duty applications.
The belt features a specially designed sprocket that enhances sprocket engagement and belt performance and is available in four belt styles—Flat Top, Flush Grid, Non Skid, and Non Skid Raised Rib. 
Other benefits of the Series 4500 include:
•Up to 60% increase in belt pull capacity
•Extended sprocket life
•Reduced back tension requirements, simplifying conveyor construction
•Quick and easy replacements/retrofits

"Due to the improved sprocket design which requires less back tension in the belt to keep the sprockets engaged, users should see a noticeable improvement in belt and sprocket life," said Miranda Kovach, Intralox engineer.

Founded in 1971, Intralox is globally headquartered in the United States with locations around the world, including the Netherlands, the United Kingdom, China, Brazil, Australia, Japan and India.
---