Intralox Wins Australian Packaging Award
S7050 ARB Solutions honored for moving more, with less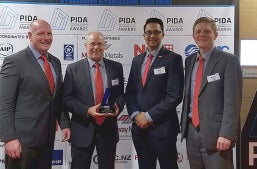 The Intralox Activated Roller Belt (ARB) S7050 has been named the 2017 Design Innovation of the Year Award in the Beverage Category by the Australian Packaging & Processing Machinery Association (APPMA) and the Australian Institute of Packaging (AIP). The award was given at a gala dinner in Sydney alongside AUSPACK 2017.
The Design Innovation of the Year Award – Beverage Category recognized organizations that have designed innovative packaging and processing materials, packaging and machinery/equipment within packaging and processing for liquid or dry tea, coffee, water and soft drinks including wine, beer and spirits. This is the first year of the award.
"Global Market trends demand that we continuously innovate, and the Series 7050 is no exception," said Scott Shannon, Intralox Global Packaging Industry Team Leader. "We believe the ability to turn, switch, lane and transfer the smallest package sizes on one piece of equipment at higher speed fills a solution gap that will benefit manufactures immediately, and we're honored to be recognized by APPMA and AIP." 
Based on a proven Intralox technology, the S7050 adds more roller density and a finger transfer plate.  What does this mean for manufacturers?  It means smaller packages can be handled, even challenging package sizes as small as 4.3" x 4.3" (110mmx110mm) at higher speed up to 500 pack per minute. 
As consumers trends shift to smaller packaging, manufacturers are rapidly adapting. From product design to the equipment used to handle the product, the impacts go beyond the final packaging. With smaller package trends in mind, Intralox introduced the Series 7050 ARB Solutions, a technology proven to solve the future challenges of packaging lines, today.
Robotics are commonly operated in this setting with requirements of intensive fencing, well trained skilled operators, and multiple EOATs to handle different specifications of products. The S7050 eliminates these requirements. It handles high speed production line, combining the turning, switching, laning, and transferring on one piece of equipment. Most importantly, it does so with zero change over time. 
Over the last 14 years, Activated Roller Belt technology has decreased overall project costs and added functionality in more than 7,500 installations around the world.
---