Marie Drastically Reduces Maintenance Costs with Intralox Side Drive Technology
---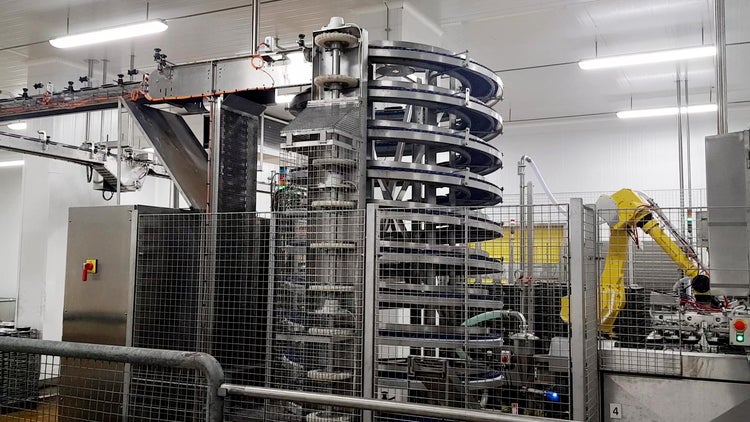 The innovative concept of Intralox Side Drive makes the spiral elevator more efficient by reducing both maintenance requirements and power consumption, and it ultimately ensures the reliability of our production line.

Stephane Lemiale
Marie Maintenance and New Projects Manager
Customer Objectives
Marie, a manufacturer of fresh and frozen ready-to-eat meals and member of the LDC Group of brands, needed to add a new line for elevating trays prior to packaging at its Sablé sur Sarthe plant. This line was required to handle higher throughput. The plant's existing line was equipped with a three-tier spiral with metal edge bearings, which had to be replaced every six months. Upgrading the metal edge bearings to stainless steel extended the bearing life to 12 months, but Marie knew any conveyance system with bearings would drive the new line's maintenance time and cost too high.
Intralox Execution
Marie's partner OEM, French manufacturer CIPAB, presented Intralox Side Drive technology as a robust and reliable alternative to a spiral with edge bearings. Marie could see that the flexibility and easy maintenance of Side Drive would improve overall product quality and avoid costly wear components. And, with more drive motors (one per tier), Side Drive would reduce tension and belt pull, thereby reducing maintenance labor time and costs.
Side Drive implementation took just one weekend, with no surprises or setbacks, and the technology immediately began to prove its worth.
Results
Compared to Marie's existing three-tier spiral with edge bearings, Intralox Side Drive technology resulted in a tenfold reduction in total cost of ownership in just one year, including complete elimination of preventive maintenance costs to replace edge bearings. Further, the new line helped Marie cut power consumption by 40%, reduce maintenance costs by 90%, and accommodate higher throughput.