Modular Plastic vs. ThermoDrive Belting
3 Things to Keep in Mind When Choosing a Belt Type for Your Food Conveyor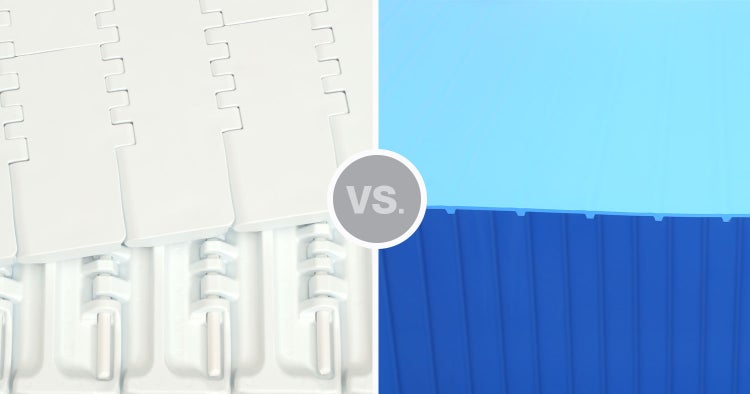 A lot has happened in the food processing world since Intralox invented modular plastic belting in 1971. There are products, food segments, applications, food-safe regulations, and operational needs no one could have imagined nearly 50 years ago.
Today, as then, the market continues to drive and demand innovation. With an ever-growing menu of foods for processors to handle, the two preferred conveyor belt types are modular plastic and ThermoDrive belting.
Both modular plastic belting (MPB) and ThermoDrive belting are proven performers for various food processing applications. Both have been, and continue to be, improved and adapted for multiple uses. Both make fine choices. 
So how do you decide which type of conveyor belting to go with? 
We talked with a handful of our experts, who revealed three things to keep in mind when you're deciding between MPB and ThermoDrive belting for your conveyors.
Where To Start When You're Not Sure Which Technology to Choose
Application, Application, Application
Across the board, the first question our account managers and representatives ask customers goes something like: Can you tell me more about your specific food application?
Where will the belt be used? What are the line's environmental operating conditions such as temperature and exposure to moisture? Will the food product directly touch the belt? These are just some of the factors to consider before MPB or ThermoDrive belting can be recommended. At Intralox, we connect customers with our industry experts to help determine which belt type is the best fit.
Intralox Team Tip: Since food products and applications vary so widely, it's best to consult with Intralox experts for assistance with choosing the right modular plastic or ThermoDrive belt. 
New Equipment
Planning to expand your lines or build new conveyors? Consult with your belting experts early in the process. "Being involved at the start of a new project allows us to make sure customers are using the correct product, which gives us the best chance to help them succeed," says Intralox Account Representative Margaret Legendre. 
For new conveyor builds, sometimes a team effort is ideal. "Intralox will gladly work with customers and their OEMs together to find the right solution," explains Juan Tanca, Intralox Account Manager. In our own triangulation program, all three companies partner early in a project's life cycle. Working collaboratively opens the lines of communication and creates efficiencies that can prevent confusion and pay dividends down the line.
When To Standardize And When Not To
If you're familiar with a specific type of MPB or ThermoDrive belt that has worked well on your line, it can be tempting to make it standard in your plant. And, depending on your needs and application, it could be that sticking with this style of MPB, or that style of ThermoDrive belt, is absolutely the right call. Fewer belt types in your plant can also streamline certain efforts such as sanitation or maintenance.
But standardization isn't always good. In fact, it can prove to be an unwitting or costly error.
Camila Lima, an account manager serving our meat, poultry, and seafood customers in Brazil, has seen users order the wrong type of belt for the sake of consistency. "It's a common mistake," she says. "Customers who love ThermoDrive belting try to use it for packed or packaged products, too. But ThermoDrive is a hygienic solution intended for applications where food products directly touch the belt." In such cases, MPB might be a more sensible choice.
In the quest to standardize, customers may ask for something they don't need. "Radius belts can also run straight, but they're more expensive than straight-running belts," says Legendre. "In a case like that, if we see a customer wants to order a radius belt for consistency, we'll steer them to a straight-running belt that's less expensive and will do the job."
How To Choose When Both Types Of Belt Will Work
If modular plastic and ThermoDrive belting will BOTH work well for your needs, how do you choose the better option? 
Each belt type is a shining star when it comes to certain foods and applications. In general, MPB is a solid choice for high-impact applications in beef and pork, whereas ThermoDrive belting is well suited for further processing applications in protein plants. For baked items, our experts usually suggest modular for all but dough handling applications. ThermoDrive technology tends to be a better fit for dough.
Success Story: A leading produce brand switched belt types on an incline-to-packaging application and reduced changeover time by 58%. Learn How
One example where both technologies can work, but one really rises to the top, is incline-to-packaging applications for snack, and fruit and vegetable processors. Both modular plastic and ThermoDrive belting are reliable solutions for incline to packaging. However, ThermoDrive belts offer easier sanitation and can be cleaned in place on a conveyor, allowing customers to experience up to 50% less cleaning time over modular plastic options.
What's the bottom line? Lean on the support of your belting solution experts when you need to choose between modular plastic and ThermoDrive belting. The ideal partner will have the industry-specific expertise to recommend the right belt type for your food processing application that meets your goals.
For more about the Intralox support options available to answer your belt questions, visit our Customer Support page.
---