"Exceeding Expectations": Intralox's DirectDrive Stacker
---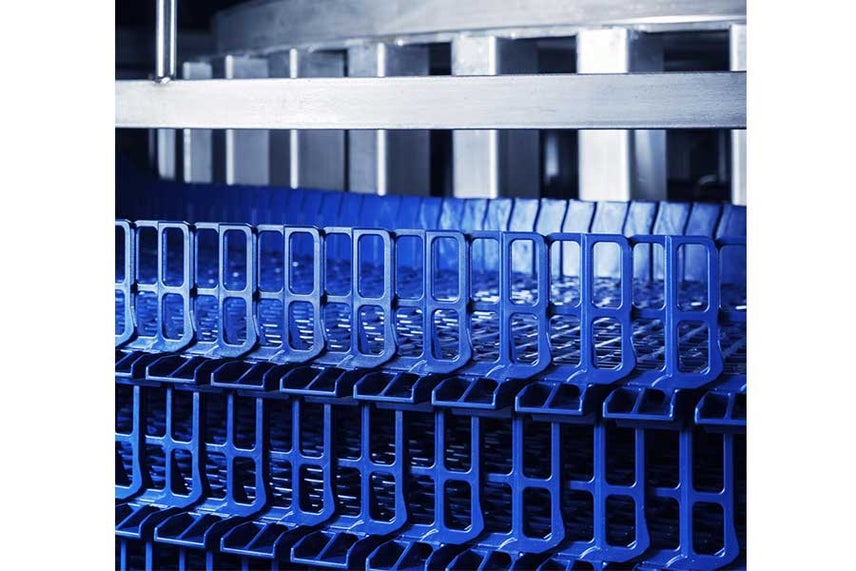 Mountain Top Foods produces internationally inspired, prepared frozen meat products for retail distribution throughout Canada. To contend with growing demand for its product, the company broke ground on a new processing facility in 2015. Its prior plant had used a batch-freezing process that limited potential output. Mountain Top often had to operate beyond normal hours, or contract with a third-party facility, to fulfill all of their orders. The batch-freezing process also generated significant product loss (between 4% and 4.5%) due to moisture escape.
As part of its new facility, Mountain Top needed an efficient freezing solution that would increase throughput capacity and reduce product loss. Plant officials also wanted to reduce maintenance and simplify their sanitation procedures. This combination of factors led them to choose the Intralox® DirectDrive™ Stacker. An innovative extension of the Intralox DirectDrive™ System (DDS™), the DirectDrive Stacker is a lightweight modular plastic solution that combines the hygienic and space-saving benefits of stackers with the unique, simplified operating system advantages of the DDS.
Since it was installed in June 2016, the DDS Stacker has exceeded Mountain Top's expectations. Plant throughput is consistently higher than expectations—as much as 1874 lb (850 kg) per hour—without having to operate outside its regularly scheduled hours or through a third party. The sanitary design of the new system has also delivered better hygienic performance with simpler, less frequent maintenance. By reducing moisture loss (compared to its previous freezer), the company has realized annual cost savings of close to CAD $200,000 (approximately USD $150,000).