Intralox and the Walmart Food Safety Collaboration Center Partner for Food Safety Improvement
Intralox and the Walmart Food Safety Collaboration Center Partner for Food Safety Improvement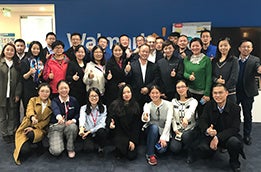 As food safety guidelines continue to become more strict in China, food manufacturers are constantly seeking ways to improve their food safety standards and procedures. Thanks to Intralox and the Walmart Food Safety Collaboration Center (WFSCC), food manufacturers in China are better educated to address these regulations after a one-day food safety seminar. 
Food safety culture and leadership were the focal points of discussion throughout the seminar. Following a morning session dedicated to the importance of sanitation and standard operating procedures, attendees learned the basics of hygienic design principles. Their knowledge was put to the test during a hands-on exercise where attendees were tasked to apply the hygienic design principles they learned earlier in the day. 
Over 40 food industry workers from across China attended the event at the WFSCC in Beijing. Launched in October 2016, the WFSCC focuses on three areas of work: food safety innovation, education, and policy support. It conducts collaborative research on critical issues in the supply chain, broadly disseminating the information among those engaged in the food safety field in China.
"Food safety is an important issue that all food manufacturers can agree on," said Dr. Zhinong Yan, Executive Director of the WFSCC. "By bringing together food manufacturers from across China, it's our hope that our collaboration can strengthen food safety standards and bring safe food to consumers."  
The sessions were led by food safety experts from Intralox and Commercial Food Sanitation (CFS), including Darin Zehr, CFS General Manager. 
"Having this many committed leaders in food safety in one room discussing food safety solutions to help their companies is fantastic," Zehr said. "Being able to share globally recognized best practices and technologies in sanitation and hygienic design is great for the food industry not only in China, but across the world."
Intralox is the pioneer of hygienic conveyance solutions and continues to be the only global company that provides comprehensive, industry-specific solutions. Commercial Food Sanitation, an Intralox company, provides strategic consulting, expertise, and training to deliver durable solutions to food safety and sanitation challenges for food processing plants. CFS regularly hosts sanitation and hygienic design training at Intralox's Asia headquarters in Shanghai. 
---