"A New Era in Poultry Processing" for Senpilic with ThermoDrive Technology
---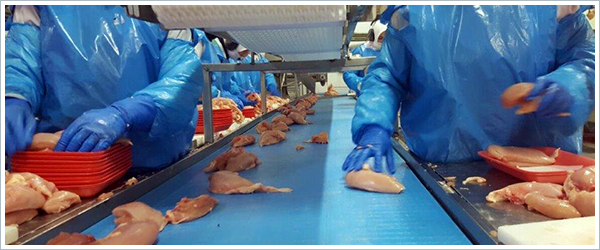 Our product loss dropped considerably since we upgraded to ThermoDrive. We received not only belting from Intralox, but also great technical support. We are very happy with our choice to work with Intralox.

Bülent Ak, Senpilic Group Technical Manager
Customer Objectives
Begun as a single chicken farm nearly 40 years ago, Senpilic is now one of Turkey's leading poultry processors. Its fast-growing plant in Adapazarı, Turkey, regularly adds new equipment and conveyors to expand capacity. As the company's production has grown, product quality and sanitation have become chief focuses.
The Adapazarı plant was encountering issues in two key areas: the cut-up line (where chickens are cut into pieces) and the giblet line (where giblets are transported from cooling to packaging). Fabric conveyor belts in the area presented contamination risks (e.g., pathogens being harbored within the belt fabric); exhibited shortened belt life (six months to a year); and required frequent adjustments.
To properly clean belts, maintenance personnel had to first remove them from their conveyors, risking belt damage. Over time, workers had to dedicate more attention and resources toward this task to achieve desired hygiene levels. The giblet area presented further challenges, since it contained closed-frame conveyors that were difficult to fully clean, and an ineffective scraper that contributed to significant product loss.
Intralox Execution
In search of better solutions, Senpilic worked with Intralox to determine the best course of action. Intralox proposed its hygienic system, which features the patented ThermoDrive tensionless belt system and has proven highly effective for meat- and poultry-processing plants. The ThermoDrive tensionless belt system features a homogeneous thermoplastic belt surface that eliminates bacterial harborage, as well as components that are easy to clean and maintain.
A trained and dedicated hygiene expert from Commercial Food Sanitation, an Intralox company, was involved extensively in the process. Working in conjunction with the Intralox team (but acting as an independent resource), this expert audited current plant conditions to develop and deliver reports proposing specific solutions. Intralox provided Senpilic with reference installations from other poultry plants, and also consulted with Senpilic to help implement a more hygienic conveyor and a better scraping system.
Results
Senpilic's main goals for the project were to reduce cleaning time, decrease water consumption, and ensure consistent swab results. The Intralox Hygienic System has enabled dramatic improvements in these areas and more. The plant's engineering team built a clean-in-place system, designed to Intralox's specifications, that has eliminated the need to remove belts for cleaning. Cleaning time has been reduced from 80 minutes per day to 20, for a decrease of 75%. Belt damage has been minimized as well.
Water consumption has been reduced by 13.2 gal (50 L) per cleaning session, which has generated total annual savings of $11,770 (€10,500). Swab results along the cut-up line revealed hygienic performance is more than five times better than with the previous solution.
The plant has also seen gains in other areas. The complicated maintenance processes of the past have been simplified and streamlined, and Senpilic's overall product loss has decreased by 1%. To date, the plant has retrofitted seven conveyors to ThermoDrive belting, and has also installed two new ThermoDrive belts.
"ThermoDrive belting started a new era in poultry processing," says Bülent Ak, Senpilic Group Technical Manager. "Our product loss dropped considerably since we upgraded to ThermoDrive. We observed significant reductions in cleaning water consumption and cleaning durations. We received not only belting from Intralox, but also great technical support. We are very happy with our choice to work with Intralox."