Sorting Like You've Never Seen
Sort to flexible outfeed configurations to match new or existing product lines
Hygienic sorting conveyors

Eliminate the product damage, non-value-added labor, maintenance, and production downtime often associated with high-speed sorting.
Intralox Active Integrated Motion (AIM) sorting solutions allow you to sort at different angles and high speeds while maintaining product orientation and gapping as small as 3 in (76 mm). The unit's moving pegs and single-sculpted, robust belt design provide gentler handling than fixed rails, pusher arms, or conventional labor. When combined with innovative automation, this allows you to increase throughput while running line speeds as fast as 200 ft (60 m) per minute.
AIM Sorters enhance performance across your line, especially in these applications:
Sorters
Reject sorters
Line balancing assignment
Rework lines and line diverters
Checkweighers over and under weighing diverters
Designed for a washdown environment, AIM belting's single-sculpted and robust design allows for easy cleanability in critical sorting areas.
---
The smart design of the AIM Sorter provides good flexibility and offers an ergonomic solution that simplifies our working station.

Thierry Brisseau
Galliance Maintenance Manager
Benefits
Plants that implement AIM sorting technology realize many key benefits, including:
Gentle product handling
Reduced labor costs
Stable product orientation
Improved line flexibility
Increased throughput and cleanability
---
Equipment Options
Which solution is right for you?
Sorter
The AIM Sorter 14 in (358 mm) gently and accurately sorts products to narrow spurs and perpendicular outfeeds, all while maintaining product orientation. Its unique design allows for the sortation of products at different angles within a small overall footprint. With gentle product handling at high speeds, the AIM Sorter 14 in (358 mm) can match the speeds of other equipment in your lines to maximize throughput.
See how an AIM Sorter helped poultry processor Galliance increase throughput by 31%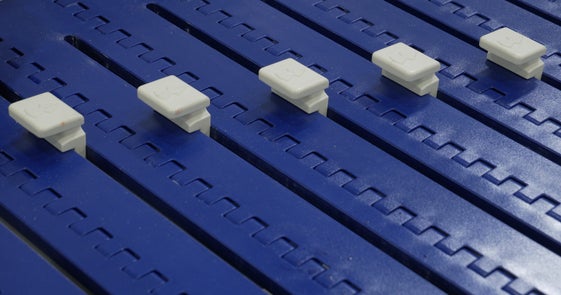 Extra Width
The AIM Sorter 21 in (533 mm) and AIM Multilane Sorter 21 in (533 mm) offer extra width compared to our 14-in (358 mm) sorter options. This extra surface area allows you to sort and gently handle larger products across industries, from packaged and unpackaged food to empty boxes and crates. For more details, contact Intralox Customer Service.