Realize the benefits of reduced tension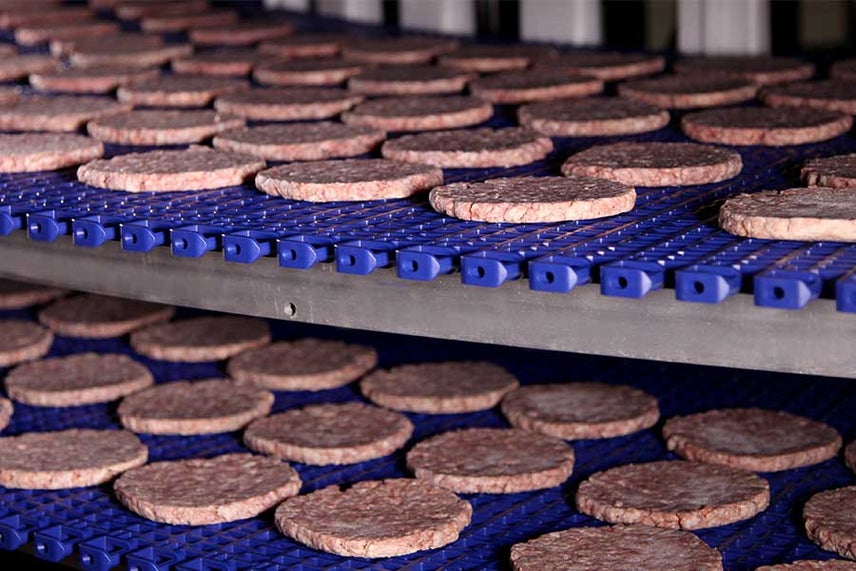 Spiralox®, Intralox's line of spiral belt technology, delivers particular advantages in freezer applications:
Belt life is significantly longer than metal belts
Downtime for maintenance reduced by up to 75%
Lowered energy costs and belt tension from 50% less weight than metal
Product waste cut in half as belt material resists product adhesion
Complete elimination of lubrication and product contamination due to metal wear debris
Quick and easy cleaning
Intralox's freezing solution can be applied for new or existing spiral systems. With Spiralox Optimization Solutions, a dedicated Spiral Team takes 100% ownership of the complete spiral retrofit project to reduce your risk and guarantee success. Please contact Intralox for help with the design of your new spiral applications or for improvement of your existing ones.
"Intralox took on the complete retrofit project. Their spiral experts completed the retrofit in just three days, and were my single point of contact before, during, and after the project.
The Spiralox belt has been running since January 2008 and is much easier to repair than the [previous] metal belt. I have two more spiral freezers in my plant scheduled to be retrofitted with Intralox modular plastic belts."
Peter Grimwood, Maintenance Manager, Large UK poultry producer
 
"The installation of a modular plastic belt onto our freezing spiral has brought us major benefits compared to metal belt spirals. Ease of maintenance and handling is unmatched, thanks to the light weight of the [spiral] belt. Elimination of welding and grinding reduces the time and manpower necessary for preventative checks and maintenance work. Since the system is running at low tension, downtime has also been reduced considerably. Intralox was on-site to supervise installation and provided excellent after-sales service."
Rainier Krause, Project Engineer, Chubby Chick South Africa  
Case Studies
Passing the Test: Chicken Plant Converts 70+ Conveyors to ThermoDrive Belting

From Weekly Foreign Material Incidents to None Thanks to Intralox's FMC Conveyor Program

Intralox HDE PK Belting Eliminates Product Sticking for Greater Yield Retention and Safety